The latest exhibitions | 展覧会新着順
この度HELLO GALLERY TOKYOでは、5月26日より、韓国出身作家パク・ニナの個展「Made My Day」を開催いたします。彼女の作品の中心となる女性や猫のモチーフは、作家自身と彼女の愉快な仲間たちを特徴的に描いたものです。キャンバス上の表現はイラストレーション的構図で描かれながらも、背景や光、そしてその筆使いは絵画的奥行きを見せます。そのバランスは、日常の一コマを切り取るように私たちの時間の流れを忘れさせ、キャンバスの中へといざなってくれます。「今日はこんないいことがあった」、「こんな面白いことを見つけた」と語り合っている彼らに参加するように観ていると、ごく当たり前の風景に潜むあなただけの特別な何かに気づくきっかけとなるかもしれません。



We are pleased to announce our collaboration with Nina Park from Korea to hold her solo exhibition " Made My Day". The girl and the cats in her works are the characterized artist herself and her merry companions. On the surface, her works has an illustration-like composition but they are also full of painterly depth with the brushstrokes and luster of background sceneries. The scene is a cut out frame of ordinary life, letting us forget our busy lapse of time and inviting into theirs. We can almost hear them talking about things like "Something good happened today" or "Look what I found today". By joining them, you may be able to notice something special only to you hidden in your own daily sceneries.





"MADE MY DAY"
Nina Park solo exhibition | パク・ニナ個展



会期:2023年05月26日~06月10日
時間:13:00~19:00[火曜日~土曜日]
休日: 日曜、月曜日
場所: HELLO GALLERY TOKYO
TEL : 03)6281-9434
Email: art@hello-gallery.com
_________________________


Open: May 26th - June 10th, 2023
Open time: 13:00-19:00 [Tues-Sat]
Closed : Sun.Mon
Place: HELLO GALLERY TOKYO
TEL : +81 3)6281-9434
Email: art@hello-gallery.com
Profile
NINA PARK | パク・ニナ


英国キングストン大学でイラストレーション学士号を修得後(2015 – 2018)、数々の展覧会や地方自治体、金融業界、ファッション企業とのコラボレーションを経験。 2022年より本格的にペインティングに焦点を当て、韓国のみならずイギリスや台湾、フランス、スペインなど、各国で活動をしている。


After her bachelor's degree in illustration at Kingston University in The United Kingdom(2015 – 2018), she took part in many collaborations with multiple organizations such as a local government, financial industries, and fashion corporations. After she shifted her full focus onto painting since 2022, her UK pop style is receiving more attention from worldwide, The UK, Korea, Taiwan, France, and Spain etc.
ARTIST STATEMENT
By Nina Park
私の日常はとてもシンプルです。 古い街の角にスタジオがあって、着いたらすぐにコーヒーを注ぎます。絵の具をパレットの上に絞り出して、作業開始の準備が整います。 眠くなってきた夕方には、スタジオの周りを軽く散歩するのも欠かせない日課の一つです。私はこんな単調な一日が大好きです。日常生活にあっと驚くような大きな出来事はないけれど、季節ごとに変わる景色や、街ゆく人々の服装、空の色、そんなものに私はときめきを感じます。毎日の小さな出会いや胸の高鳴りが、私のキャンバスの上には広がっています。それは、私にとって特別な歴史を書き記していくような感覚なのかもしれません。(パク・ニナ)
My daily life is very simple. I go to the studio in an old town, and then enjoy a cup of coffee. After that, I squeeze some paint out onto a pallet, which means I am ready to get started working. And in the late afternoon when I get sleepy, it is also one of my daily essential routines to take a small stroll around the studio. This monotony of each day is what I love. There are not many major events in my daily life, but it is always throbbing for me to find small changes, just as the different outfits of people on the street or the different colors of the whole city in each season. I capture these little things and play with it on my canvas. They can be my own special history through ways of my own. (Nina Park)
FREE#
チョ・ミョンハク個展
2023年4月14日(金)-29日(土)


「FREE# 自由とは何か」
これは作家が見つめ続けるテーマであり、誰もが大人になる度に考えてきたことでもあるだろう。子どもの時に夢見た自由と、今ある自由。そして子どもの時にはあったけれど、今はもうない自由。時には手にすることを恐れ、ただ思い描くことを楽しむ。そして人は自由を求めると同時に、常にそこに自分の姿を投影させてきた。「自由」には、なりたい姿も、かなわない夢も、一瞬の幸せも詰まっている。
チョ・ミョンハクの描く世界は、理想と現実の狭間から生まれた。人のような姿をした動物たちは、着飾って、鮮やかで美しい世界を生きている。そんな楽しくて自由な世界だけれど、しっかりとした秩序の中で物語は繰り広げられている。きっと彼らも、現実を生きる私たちと同じように幸せを感じ、不安を感じ、何かを学んでいるのだろう。



Myung-hak Jo Solo exhibition

"FREE# What is freedom".

This is a theme that the artist continues to focus on, and is something that everyone has thought about as we grow up. There are many perspectives to what it is, such as the freedom we have dreamed of when we were a child, the freedom we got now, and the freedom that we used to have as a child that we don't have anymore. As much as we always enjoy imagining to be free, sometimes we are afraid to step out of the frame. And as we seek freedom, we have always projected our own image on what we think it means. Freedom is filled with what you want to be, dreams that cannot be come true, momentary happiness and just everything we think of at the moment. The world of Jo Myung-hak was created by the conflict between ideal and reality. The animals are dressed up and live in a bright and beautiful world. It seems like such a fun and free world, but the story definitely unfolds in a firm human-made order. They must be feeling happiness, worries and learning something new every day just like welive in this real world.





会期:2023年04月14日~04月29日
時間:13:00~19:00[火曜日~土曜日]
休館: 日曜、月曜日
場所: HELLO GALLERY TOKYO
TEL : 03)6281-9434
_________________________


Open: April 14 - 29, 2023
Open time: 13:00-19:00 [Tues-Sat]
Closed : Sun.Mon
Place: HELLO GALLERY TOKYO
TEL : +81 3)6281-9434
Artist Profile
MYUNG-HAK JO | チョ・ミョンハク
1990年生まれ
啓明大学大学院芸術学部洋画科卒業


Born in 1990
Graduated from Keimyung University Graduate School of Arts, Department of Western Painting.
自由に生きていくと思っていた少年が、
大人になった。



いまや手放せなくなったスマートフォンも、子どもの頃は知らなかった。あの頃は、お金のことを1秒も考えずに楽しめる日があった。広大な空、山、大小の建物が立ち並ぶ森を走り回るだけでも格別の楽しみだった。今思えば幼い頃、親に心配をかけたと思うことも、あの頃は気が付かなかった。そして時が経つにつれ、少年は大人になり、将来への不安と人生の欲望を知った。
基本的な人格や、考え方のくせは当時とほとんど変わらない。けれども今は、年齢も環境も大きく違って、生き方も感じ方も変わった。鳥の形をした人間の姿は、理想と現実の狭間を表現している。鳥は子供の頃から憧れた「自由」と「理想」を象徴し、人間の体は「現実の生活」を象徴している。擬人化された鳥は、素晴らしい姿で夢のような想像風景を生きている。現実をもとにした幻想が、現実を解き放ち、その不調和を美しく物語っている。
「私は、枠の中で自由である。」



自由とは何か、答えは一つではないかもしれない。抑圧という枠組みから解放された時に感じる「喜び」は、自由そのものと言えよう。しかし、枠組みから逃れようとするとき、少なからず恐怖も伴う。人間は社会を形成し、規則の中で生き、その中で自由に生きることを望んでいる。決まった枠の中では息苦しくも、慣れた環境は心地よく、枠から出ようとすれば解放感とともに不安を感じる。自由について絶対的な答えを出すつもりはない。それでも私は、枠の中で自由を夢見て、そこから自分自身を見つめることにした。
The boy who used to think he would always live freely, has now become a grown-up.


When I was a kid, I didn't even know about smartphones, which I can't let go of now. In those days, it was never rare to enjoy myself all day without thinking about a single penny. It was a special pleasure just to run around the vast sky, mountains, and forests lined with large and small buildings. When I think about it now, I feel for my parents who must have been worried about me, but at the time I was happy enough not to know what that even meant. As time passed, that boy became an adult and I learned about worries towards the future and greed in life.
My basic personality and way of thinking are no different from when I was young, but now my age and circumstances feel very different. Through my paintings, I express the conflict between ideals and surroundings in the figure of human-looking birds. The bird symbolizes the 'freedom' and 'ideal' longed for since childhood, and the human body symbolizes the 'real life' I face now as an adult. The anthropomorphic birds in splendid appearance are just enjoying living in dreamlike imaginary landscapes. This fantasy sets the reality free and it beautifully tells its disharmony as it's based on reality itself.
I am free within a frame.
What is freedom, there may be more than one answer. The joy you feel when you are released from the frame of oppression can be called freedom itself. However, when trying to escape from the frame, fear is also accompanied. Human beings want to form society, live within rules, and live freely within those frames. It may be suffocating in the fixed frame, but it feels comfortable in the familiar environment, and when you try to step out of it, you feel a sense of release but also anxiety. I'm not trying to define what "freedom" means here. However, I decided to stare
myself by dreaming for freedom within my frame.
Seung-Hun Han | ハン・スンフン



韓国大邱大学美術学部卒業

人は、社会の基準や常識に合わせて生きていく中で、時に自らを見失うことがある。ハン・スンフンは、まるで人形のように感情が見えない人々の顔を描き、忙しない日々を送る現代人を表現していると言う。キャンバスは、きれいなカット、滑らかな表面、不透明な背景、目に見えないほどスムーズな油絵具のブラシストロークで完璧に装飾されている。 その見た目は確かに美しいけれど、眼差しは自らの存在の虚しさに囚われているようだ。 彼女たちはその空虚な目で私たちの目の奥を見つめる。日常で忘れていた心のかけらは、ひとたび立ち止まってみないと、失っていたこと自体にも気づかないのかも知れない。


Education
BFA in Fine Art, Daegu University, Daegu, Korea

Modern people tend to be constantly busy, trying to reach the standards of society and sometimes that can let us forget who we really are. Seunghun Hanpaints doll-alike people to express powerlessness and emptiness inside the people in a busy city. Thecanvas is perfectly decorated with clean cut, smooth surface, opacity background and invisible brush strokes of oil painting. They definitely look beautifulin a dreamy way, and yet their gaze of eyes is filled with nothing more than anxiety, almost like being a slave to the emptiness of their own existence or unknown meanings of a life. With those vacant eyes, they are looking into something deep inside our eyes. When we just keep going in our life without stopping from time to time for our own sake, wemay not even realize what we have lost in our eyes.


☑️ 会期:2023年02月24日~03月11日
☑️ 時間:13:00~19:00[水曜日~土曜日]
☑️ 休日: 日曜、月曜、火曜休館
☑️ 場所: HELLO GALLERY ᵀᵒᵏʸᵒ
TEL : 03)5727-8647
_________________________

☑️ Open: Feb 24 - Mar 11 2023
☑️ Open time: 13:00-19:00 [Wed-Sat]
☑️ Closed : Sun.Mon.Tues.
☑️ Place: HELLO GALLERY TOKYO
TEL : +81 3 5727-8647
Exhibition

[SOLO]
2021 Piece of Mind, Gallery Aile, Seoul
2021 Forbidden Frame, Humorgamgak, Seoul
2019 FIND THE WAY, Gallery Um, Young-cheon
2018 The Emptiness, Yipin Art Space, Hangzhou, China 2018 Time to Blossom, Art Factory, Seoul
2017 Time to Blossom, Art Factory, Seoul
2015 The Emptiness, Gallery Ars'S, Daegu
2014 Fill the Emptiness, Art Factory, Seoul
2012 Doll in the City, Suseong Artpia, Daegu
2011 Discover young artist, Space Gachang, Daegu
[GROUP]
2022 The Sanctum, Gallery Aile, Seoul
He, She, We_Sensibility (Part 1), Gallery Aile, Seoul StART Art Fair, Seoul
Popi Gallery, Brussels
Mozuku Gallery, Taiwan
Art Jeju 2022 Art fair, Jeju Now & New, Aile Gallery, Seoul

2021 Lakeside Arts Fair in Hotel Susung, Hotel Susung, Godo Gallery, Daegu Ohmaebulmang, Gallery ground seesaw, Seoul
2020 Atomic Peace, Yoo Kyung Art Museum, Geoje
Suchang Art Fair in Daegu, Suchang Youth Mansion, Daegu
2019 Dream of Doll, Smiling Arts Center, Daegu 2018 Sight of Boundary, Gallery Toma, Daegu
The Condition of Beauty, Gallery Aile, Seoul
100 Albums 100 Artists, lotte Gallery, Seoul
Harbour Art Fair, Marco Polo Hong Kong Hotel, Hong Kong Korea Galleries Art Fair, COEX, Seoul
2017 PLAS, COEX, Seoul CIAF, Lotte Hotel, Ulsan
ART BUSAN, BEXCO, Busan
BAMA, BEXCO, Busan
Harbour Art Fair, Marco Polo HongKong Hotel, Hong Kong
Korea Galleries Art Fair, COEX, Seoul
100 Albums 100 Artists, lotte Gallery, Seoul
Asia Contemporary Art Show, Singapore Suntec Exhibition Centre, Singapore
2016 Asia Contemporary Art Show, Conrad Hong Kong, Hong Kong
| Young Art Taipei, Art Factory, Sheraton Grande Taipei, Taiwan
2011 Very Addictive Re Extension of Aesthetics in Daily Life, Yinchuan MOCA, China
Six People, Edasoso Gallery, Cheongdo ANIMAMIX BIENNALE, Daegu Art Museum, Daegu Past & Post, UTOPIA, Shanghai
ART LINE DAEGU, Gallery Caution, Tokyo
明けましておめでとうございます!
今年も宜しくお願い申し上げます。
新しい年の始まり、1月です!新しい夢をみたり、目標や計画で胸がいっぱいになったりする季節ですが、皆さんはどのようなスタートを切っているでしょうか。𝗛𝗘𝗟𝗟𝗢 𝗚𝗔𝗟𝗟𝗘𝗥𝗬 ᵀᴼᴷʸᴼでは、1月14日(土)より、皆さんの新年に新鮮な刺激を与えてくれるような作品をご紹介します。 5人の作家による個性あふれるグループ展 『 SPARK 』 お近くにお立ち寄りの際は是非お越しください。 皆様のご来廊を心よりお待ちしております。


It's January, the beginning of a new year! It's the season for many people to think about lots of possibilities, have new dreams, goals and plans…How have you all gotten started? 𝗛𝗘𝗟𝗟𝗢 𝗚𝗔𝗟𝗟𝗘𝗥𝗬 ᵀᴼᴷʸᴼ will introduce works of five unique artists, with the exhibition title 『 SPARK 』 from 14th-29th, hoping to share some fresh stimulus and inspirations for your new year. We are very much looking forward to your visit!
Hoki
Ji Yeon Kim
Jun Konishi
Shohei Sawai
Woo Won Jung
•会期:2023年01月14日~01月29日
•時間:13:00~19:00[木曜日~日曜日][祝日]
•休日: 月曜、火曜、水曜休館
•場所: 𝗛𝗘𝗟𝗟𝗢 𝗚𝗔𝗟𝗟𝗘𝗥𝗬 ᵀᴼᴷʸᴼ
東京渋谷区代々木 4-28-7 西参道テラス E1
TEL : 03)5727-8647
HELLO GALLERY TOKYOでは、12月3日より、今年最後のグループ展 <<You Are My Present>>を開催いたします。 2022 年を振り返ったとき、どんな日々や出来事が思い出されるでしょうか。笑った日も泣いた日も、一緒にいた人達。それは家族や友達、恋人、仲間、そして自分自身。巡るめく日々をプレゼントのようにやさしく包み込み、大切な人たちを想う展覧会にしたいと思いました。 <<You Are My Present>>、あなたも誰かを想うのと同じくらい、誰かにとっての大切な人。以下、3人の参加アーティストをご紹介いたします。


HELLO GALLERY TOKYO will be holding a group exhibition titled << You Are My Present >>starting from Saturday December 3rd; the last exhibition of this year. When you look back 2022, what moments do you remember? Who did you spend the most time with? Family, friends, lovers, coworkers, and inner yourself. This exhibition will wrap those days gentlylike a present and offer an embrace for you and the people you care for in your life. <<You Are My Present>>, you are a person who matters, as other people matter to you.
We will introduce the participating artists below.
Rooo Lou
1988年生まれ、 大阪府出身。 デザイナーと して活動後、 表現の手法をイラストレーショ ンへ移行。 以後アパレルプランドや広告への アートワーク提供を行う。 近年は作品制作を主とし、国内外で精力的に作品発表を行なっている。
Rooo Lou(ルー)was born in 1988, currently lives and works in Tokyo, Japan. He started his career as a designer and later shifted his field of expression to illustration. In addition to collaborating with domestic and international advertising and apparel companies, he also actively produces artwork.
Seul-gi Kim

 韓国出身のアーティストキム・スルギ、2014年に白石大学で彫刻と絵画を修了。2019 年にはフルタイムで絵を描いていた。彼女は大人と子供の中間を生きるキャラクターを描いており、作品には、男の子も女の子も、成長する度に味わう痛みに静かに立ち向かい、自分自身がそれぞれ大人になるというのはどういうことか学んでいく姿が映し出されている。

Korean artist, Seul-gi Kim completed her formal training in sculpture and painting at Baekseok University in 2014. By 2019, she was painting full-time. Seul-gi paints characters somewhere between adulthood and childhood, of boys and girls quietly bracing in growing pains, learning how to fit into their own individual adulthood.
Nina Park
韓国出身のアーティストパク・ニナ、イギリスのキングストン大学でイラストレーションの学士号を修得。イラストレーター、ペインターとして数々の展覧会に参加し、地方自治体、金融業界、ファッション企業などとのコラボレーション経験もある。 2022年はイラストレーションよりもペインティングに力を入れ、色彩とユーモアで彼女の世界観を独自の構図で表現している。

Korean artist, Nina Park obtained a bachelor's degree in illustration at Kingston University in the UK. As an illustrator and painter, she took part in numerous exhibitions as well as collaborations with the local government, financial industry, fashion corporations, and other organizations. She focused on painting than illustration in 2022 and she has depicted a unique composition of her own universe with color and humor.
Oct 15-30, 2023
MY NAME IS PIPZIN | Kwang Hyun Kim




韓国出身のアーティスト、キム・グァンヒョンの日本初個展 "私の名前はピフチン" をHELLO GALLERY TOKYO にて開催。ピフチンとは彼の描くキャラクターの名前であり、その名由来は、『真実らしいけれど、真実である確証はない』という意味の韓国語(핍진)。

作品に登場するキャラクターのリアルな質感や血の通った肌の表現は 、現実に生きる人間以上に生々しくも見える。 それに対し、 その表情は読みとりにくくどこか憂いを帯びている。作家は性別をあえて意識してはいないという。そして彼らの目から口元へと視線をさげた瞬間その印象は変化する。喜びや悲しみ、空虚、恐怖、曖昧さなど、多様な感情を想像させる視線。それは、彼らを見つめる我々自身の視線を映し出しているようだ。作品の中に生きるキャラクターたちは、作家の内面から生まれたにせよ、他人との関係、意識と無意識 、そして鑑賞者の内面の中で生きており、それは一つの人格として成り立つ力をも持っている。 キム·グァンヒョンにとって、 絵の中の彼らは同時代を生きる私たちの姿であり、 作家の自画像でもある。 そのようにして描かれるキャラクターは少しずつ形を変え、ストーリーを広げ、作家と鑑賞者との枠を超えた場所でまた別の意味を作り、世界を歩き始めているのだ。


We are pleased to announce our collaboration with Kwang Hyun Kim for his first solo exhibition in Japan, titled "My Name Is PIPZIN". The origin of the name "Pipzin" is a Korean word (핍진), which means "Truth-likeness" and it is the name of one of his characters.

The realistic textures of his characters' skin look even more vivid than a real human being. On the other hand, their expression is difficult to read. There is something wistful about their gaze, but something almost childish about their mouth. Their gaze evokes a variety of emotions we can imagine, such as joy, sadness, emptiness, fear, or ambiguity. It reflects our own gaze as we look into them. These characters may have been born from something inside of the artist at first, but once they meet you, they start to live in the relationships with the others, and the world of conscious and unconscious. There is an individual personality they have established by their own. For Kwang Hyun Kim, the characters in the paintings represent "us" who live in the same society in the same era, as well as it is the artist's self-portrait. And as they meet more people, their world gradually changes their form, expands the story, and keeps creating another meaning in a place that transcends the boundaries between the artist and the viewers, or even with the characters themselves.


Kwang Hyun Kim | キム・グァンヒョン


1982年 韓国釜山出身.
2010年 京城大学美術学部韓国画専攻卒業.
漫画家の父とイラストレーターの母の元育つ。 大学では韓国画を専攻しながら、デザインにも目を向け、趣味でグラフィティも制作。さらには日本の仏教美術修復を仕事とした経験もある。 多岐にわたる表現や経験から現在の作品·世界観が生まれた。


1982 Born in Busan, Korea.
2010 Graduated Kyungsung University, Korean Paintings of Arts
Raised by his father who is a comic book author, and his mother had been an illustrator. As he studied Korean Paintings in university, he also worked on graffiti as a hobby, and Japanese buddhist art as a job for two years. Through the wide variety of art experience, he has reached to create his world we see today.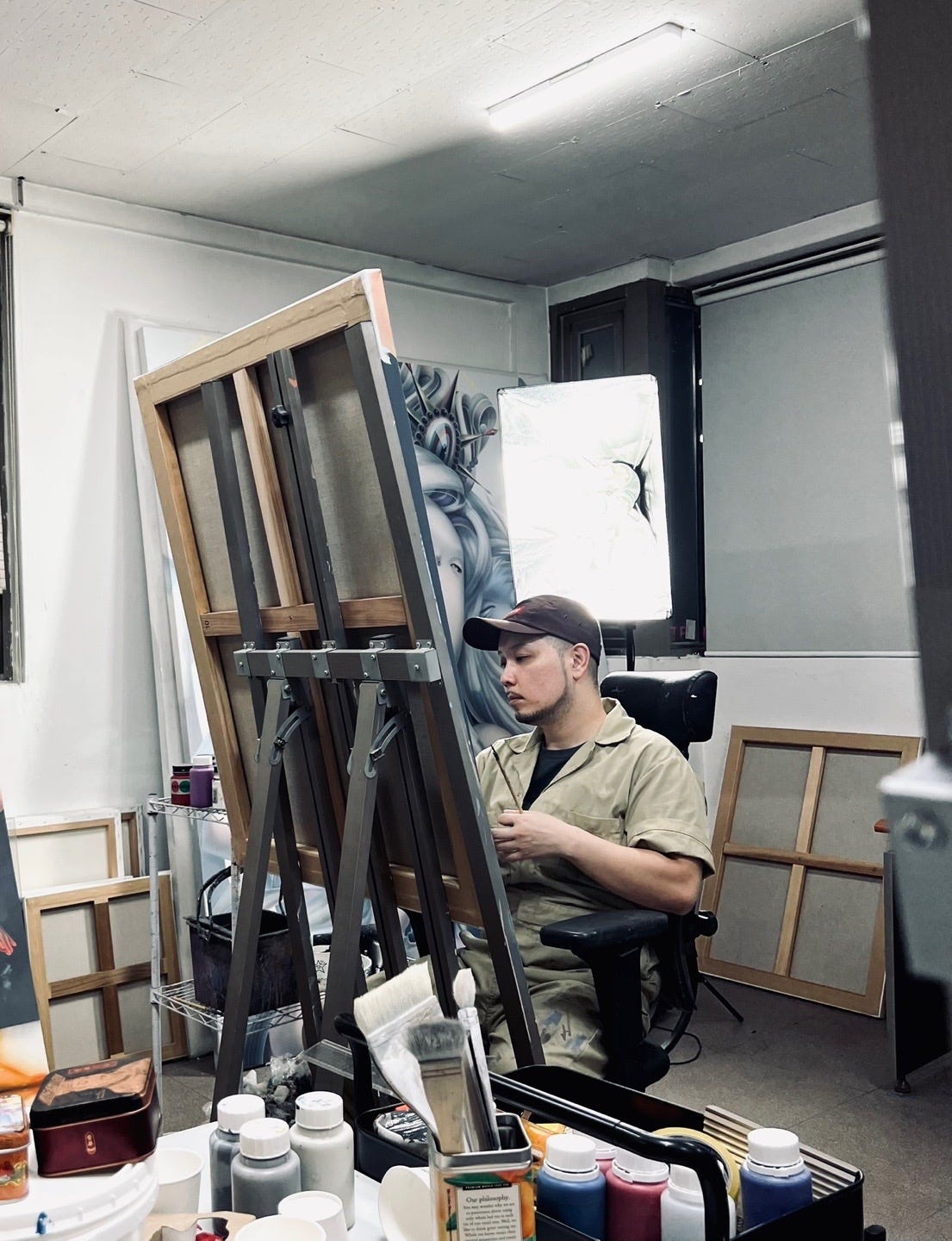 The Birth of Gatak
2021, 117×91cm, Acrylic on canvas

"The foundation of personality will be created from the fusion of consciousness and unconsciousness." - Kwang Hyun Kim -

"人格の土台は、意識と無意識の融合によって生まれる。"(作家)

キャラクター:仮託(かたく)に人格が宿る瞬間を描いた作品。キャンバスは上下二面に分かれており、上:意識の世界、下:無意識の世界として構成されている。無意識の世界は、曖昧で姿がはっきりと見えず、そこには小さな存在が転げ回るように描かれている。この小さな存在を見つめるということを通して、意識世界と無意識世界は、互いの世界の存在を認識することになる。壺に映っている顔は、作品を鑑賞している我々の姿なのかもしれない。


Breath of Desire
2019, 162×130cm, Acrylic on canvas

"人間であるかぎり欲望を隠すことはできず、近づく死からは避けられない。" (作家)
「欲望の息吹」と題されたこの作品。作家は人間の欲望に対する質問を投げかける。イヤリングを包む手(富の象徴)、獅子の頬を鷲掴む手(武力の象徴)、頭蓋骨に入り込む指(権力の象徴)が中央の人物を取り囲む。そして周りには花々が咲き乱れており、よく観れば人間の「目玉」と「舌」で構成されていることが分かる。絢爛な世界の中、生々しい人体の音や人の声までも聞こえてきそうだ。
The central figure is surrounded by multiple unknown hands, one is on the earring(symbol of wealth), one is clutching the lion's cheek(symbol of force), and one is outreaching the skull(symbol of death). Flowers are blooming all around, but if you look closely, you will notice that they are composed of "human eyeballs" and "human tongues."
MY NAME IS PIPZIN
OCT15-30 | Kwang Hyun Kim
HELLO GALLERY TOKYO



Open time: 13:00-19:00 [Tues-Sat]
Closed : Sun.Mon
Place: E1, Nishisando Terrace 4-28-7, Yoyogi, Shibuya-ku, Tokyo
TEL : +81 3)6281-9434
Email: art@hello-gallery.com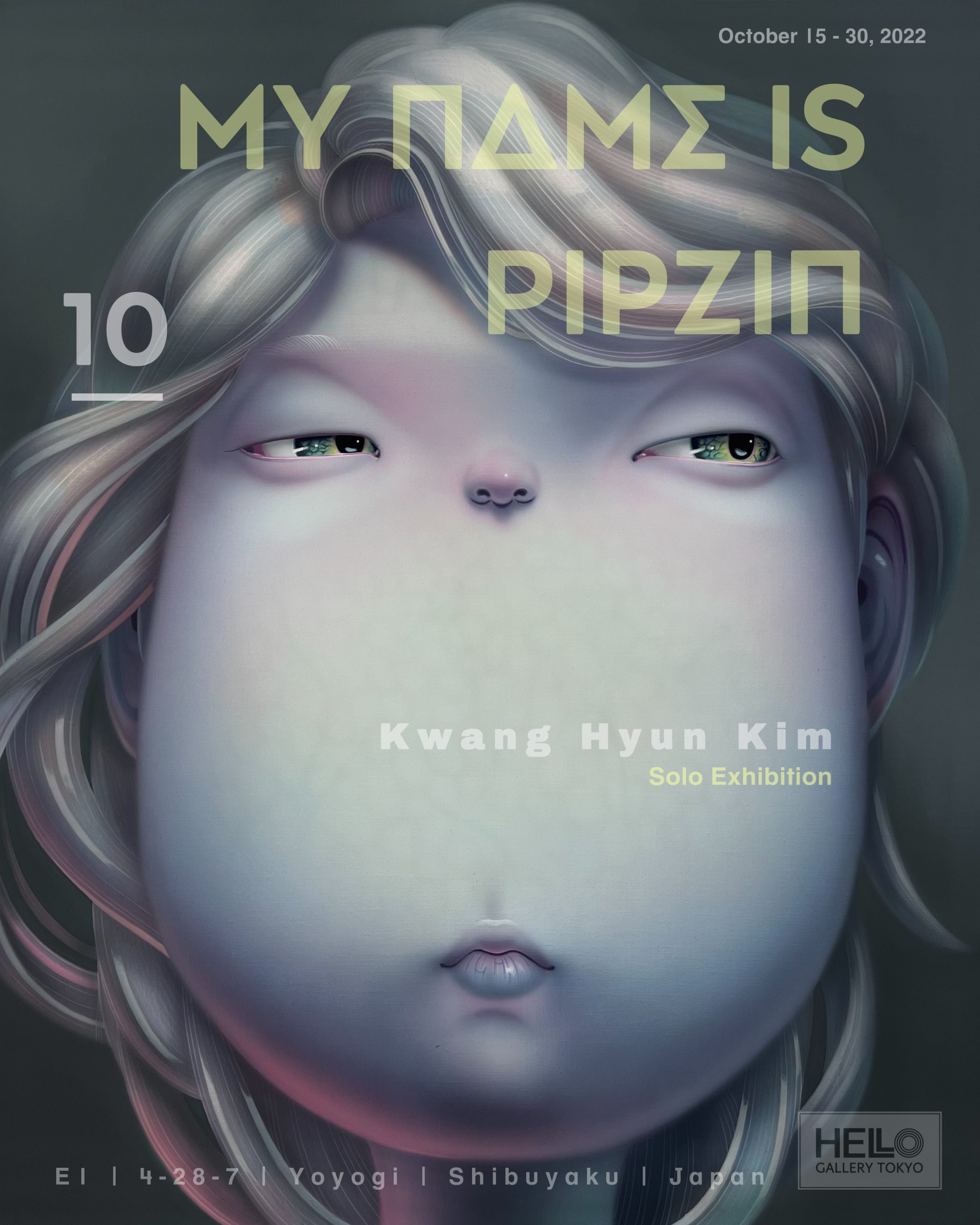 You Had Me At "HELLO"
OPENING EXHIBITION




We are pleased to announce our very first exhibition at HELLO GALLERY TOKYO, " You Had Me At HELLO".
We will introduce you 6 participating artists.



ARTISTS

ANJU SHIMOIE

EMU

KEIGO NAKAMURTA

KWANG HYUN KIM

MI JU LEE

SUANJAYA KENCUT
Read more about The Artists
Stay tuned on their Instagram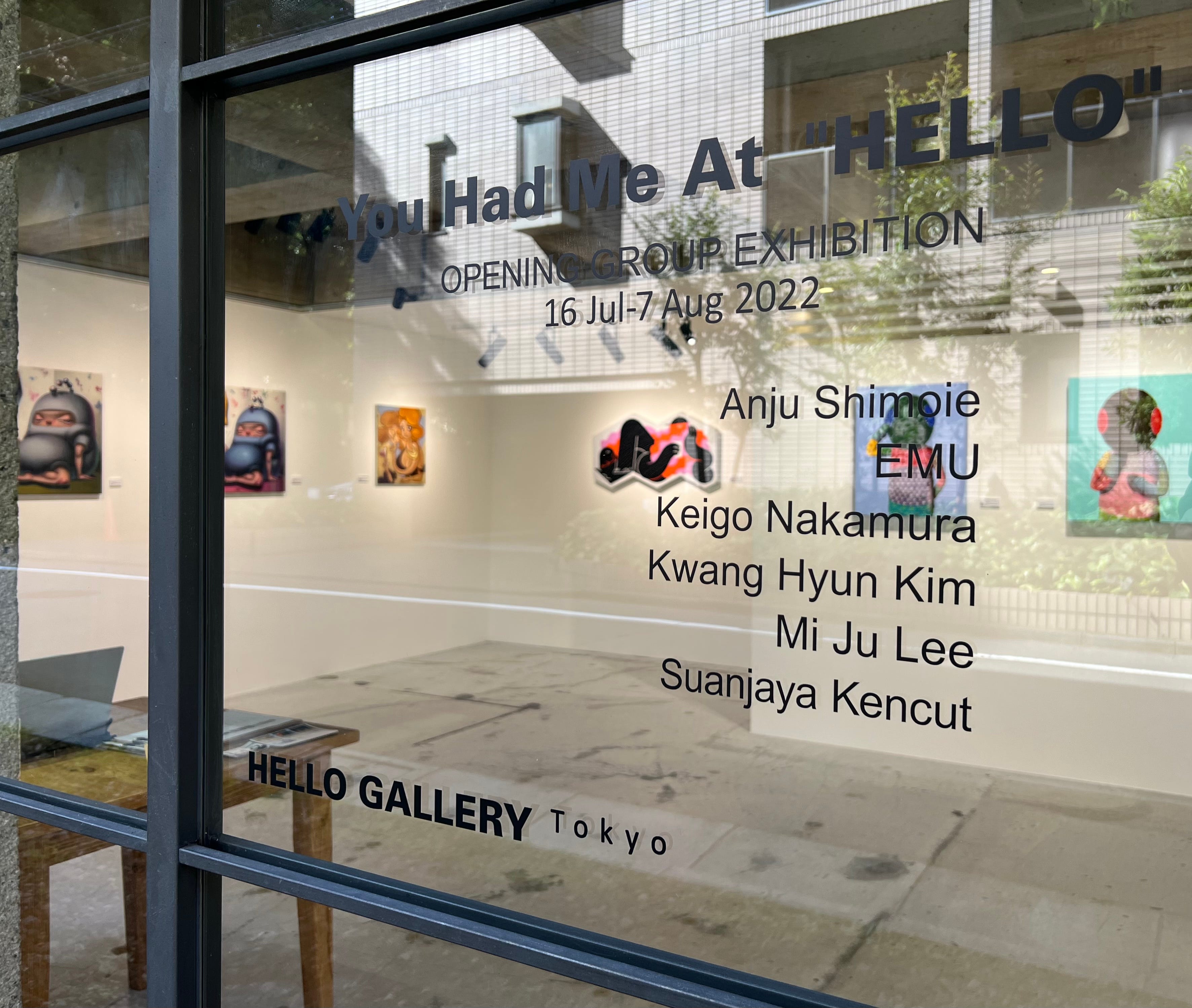 You Had Me at "HELLO"
Open: July 16th -August 7th, 2022
Open time: 13:00-19:00 [Tues-Sat]
Closed on Sunday, Monday
Place: E1, Nishi-sando Terrace 4-28-7, Yoyogi, Shibuya-ku, Tokyo
TEL : +81 3)6281-9434
Email: art@hello-gallery.com